Mantralogy Spring 2010 Magalog
March 20th, 2010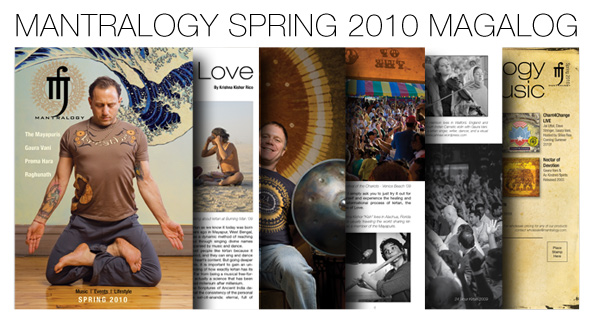 In the summer of 2009, some of our Mantralogy crew members, including Gaura Vani and the Mayapuris, toured the USA. On one long drive we all discussed what it would take to make the fast—growing kirtan music "scene" stronger. Some of us have roots in the early 90's punk rock, which relied heavily on zines, or small, fan-produced newsletters/magazines as a method of sharing insights and creating community around a shared passion: in this case, music. As some of the kirtan scene's largest fans, we discussed how great it would be to create a zine for us and our friends in the kirtan world.
Although times have changed and most communication nowadays is digital, the printed word (and image) still could have a relevant place in the kirtan world today. At least, that is how we see it.
Coupling news and feature articles with the Mantralogy Lifestlye catalog, we have come to call our version of the zine a "magalog," which is to be produced biannually. We hope to bring you a small taste of the kirtan scene with exciting products, events and music. We welcome collaboration in any respect, so if you have an idea or would like to contribute, please contact us here. Rasa Acharya, Editor
Download the first ever Mantralogy Magalog (magazine/catalog). Enter your email and name below and we'll email you a link to download the digital version. If you want a physical copy, enter your address into this form and we'll mail you one.