Kartik 24 Hour Kirtan – October 30 – 31, 2010
September 21st, 2010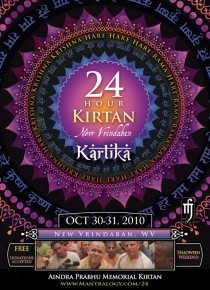 Start the winter off with 24 Hours of non-stop Mahamantra chanting in the hills of West Virginia. In the same mood and manner as the big summer kirtan, Mantralogy is happy to help produce the Kartik 24 Hour Kirtan.
General suggested donation is $40 per person advanced / $50 at the event.
Student suggested donation is $20 advanced / $25 at the event.